With everything being led by the internet and technology, online shopping is one of the leading trends of the time in Nepal. As a result, online shopping is replacing traditional shopping at a quick pace. So, starting an online business by building an online store can prove to be a wise decision.
Starting an online store as your side business or primary business in Nepal isn't as complicated as you might imagine. You can build your own online store in Nepal with these 10 pretty simple steps:
1. Brainstorm the perfect idea for your online store
A successful business always has exceptional but localized ideas. When the thought of starting an online store pops up in your mind, make sure you shape up your plan by brainstorming the perfect ideas. So, think about the genre of products you want to sell via your online store or the services you wish to provide. Observe your environment in an extraordinary way and figure out what can be localized in your community because your community is your first customer. Subsequently, figure out the type of online store you want to build.
Invest the maximum amount of time in brainstorming ideas before moving forward with your online store initiation process because idea is the main foundation.
2. Think of a catchy name for the store
Once you have thought of a perfect idea for your online store, moving forward by deciding its unique name is equally important. The more catchy name your store has, the more customers are attracted towards your store.
In particular, more attraction means more clicks as a result more orders will be received. The name of the store would be more convincing if it matches with your store's idea or with any of the promising features of your store. Furthermore, think of a name that is familiar with the target population of your online store. Avoid complex names. Choose the name wisely because soon the name will be remembered by everyone for online shopping. Especially remember that the name will represent your store forever.
3. Register the domain
Evidently, a domain should be bought and registered on the name you have finalized for your online store. Check the availability of the selected name. You can register domain in Nepal from various companies such as Himalayan Host, Nepal Link, WebLink Nepal, Prabhu Host, WebTech Nepal and many more. Various types of domain can be selected as per your choice such as .com, .deals, .delivery, .enterprises etc.
You will be charged a certain amount based on the domain type you select but you need to know that the charge you pay to buy a domain name is your investment on business. Quickly register the domain for your online store after you finalize your store's name because if the same domain is registered by anyone else, you can't use it. Someone else might have thought the same name for their store, so register your domain as soon as possible.
We all have the capacity to connect everywhere with everyone through internet. And, business is all about having right connections.
4. Finalize the products to sell
After you secure the domain name for your store, now it's time to move forward by deciding the products to sell through your store. Decide whether you want to drop-ship the goods from other companies or you want to hold onto your own products. Choose a variety of products to sell. Be precise while deciding products for your store, try to include every minor item that falls under the niche of your store. Build the list of quality products and offer cheesy choices within the products. Research, brainstorm and think critically while finalizing the products to sell so that your store is full of amazing products.
You surely can keep on adding products after you officially run your store, but give an organized opening to your store because why not?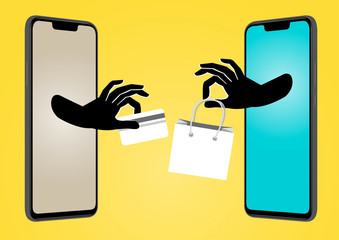 5. List the places under your service
The main advantage of the online store is that it has unlimited reach. Therefore, if you have proper plans, you can run your business in multiple places. To illustrate, you can deal with a customer in Jhapa while you are residing in Kathmandu but this extraordinary feature comes with the need to deliver your product to the place of your customers' choice. List out the places where you can deal with your online store. Finalize the area that you want to begin with. Be sure that you will be able to provide the required services in the particular area before you choose the place to list under your service region.
6. Plan the delivery methods
Are you going to hire delivery persons? Or are you going to collaborate with courier companies? After you finalize the areas you want to deal within, you need to plan the ways of delivering your products. Assigning a delivery person might work in some cases whereas other business cases might require courier companies. Think precisely about all the places you have listed and plan the delivery methods that will work on the areas.
Meanwhile, there are a number of courier companies that function in various geographical areas, you might need to contact them for partnership if you have planned to deal in larger circumference.
7. Decide payment options
The payment option is crucial for online shopping. Decide the payment options you want to make available in your online store. Cash on delivery might not be applicable to all the cases of your business. E-transaction is used by the majority of the population these days, so it would be clever to include online payment gateways in the payment options.
You obviously want to deal with a large number of customers, but this comes with the responsibility to match with different feasibility of different clients. For instance, one customer might want to pay cash on delivery but the next might want to use their desired online payment gateway. Hence, Accepting a wide range of payment options makes your store more user friendly.
8. Find a perfect online store builder and build the website
It's time to find the perfect e-commerce software that builds an online store for you. Search for software that is simple to use and has a refreshing number of templates, unlimited bandwidth, instant updates, security, and fair pricing plans. It is crucial to find perfect software because it not only builds your store but also guides you to better outputs in the future. The presentation of your online store completely depends upon which software you choose, so choose it wisely. Visit pasls.com for fair prices, inventory management, varieties of templates to build the online store that you dream of.
After you find the perfect e-commerce software, build the website for your online store with the most attractive and user-friendly theme. Present your online store in the best way you can.
9. Set up a company and get a sales tax ID
Now, proceed towards legal formalities by registering your company in "Office of Company Registrar Nepal". You will need to follow all the procedures as required by the Government of Nepal in order to register your business. Additionally, you have to obtain a Permanent Account Number – PAN registration certificate from the Inland Revenue Department after registering your company. PAN Card is your sales tax ID and your online store is now the official contributor to the national economy. Getting these processes done takes a few working days.
10. Preview, test and publish your online store
Analyze and preview all the aspects of your online store. Conduct various tests on your website to ensure the proper functioning of the store and to eliminate any existing loopholes. Make sure everything is up to the mark before publishing the website. Be confident about every dimension, get ready to officially and functionally own an online store and publish your store. Consequently, promote your store by creating official social media pages, collaborating with various agencies, running digital marketing ads and start your enthusiastic journey of e-commerce!
Nepal is moving forward in e-commerce. So, if you have an idea that can foster in the market, starting a new venture of an online store can truly shape up your business. Success begins with a single step and we, pasls.com will always support you to take bigger steps. Start, Grow, and Succeed!